Jon Hole has a massive Ficus microcarpa that has gone through some tough times. Apparently it survived an October 22, 2006 night outside when temperatures plummeted to 26F! The next day the tree was moved to warmer quarters but most of the branches and apex died and were removed as they withered.
The tree is now in Jon's greenhouse with a controlled temperature range and under his careful care. The regrowth of the tree is encouraging and reveals that despite the tree's freezing it had the reserves to attempt a recovery.
From this point on the tree needs to have careful monitoring and controlled conditions. Jon is providing proper watering, fertilization, as much light as possible and temperatures of 70-90F.
The tree must be allowed to grow rampantly to gain strength and vigor. No pruning or wiring is suggested over the ensuing months. After the tree has had a huge amount of growth, proper branches and apex will be selected and redundant branches will then be removed. Wiring can then proceed putting the apex and branches into position.
The tree's real strong point has been its fabulous base and surface rootage. These will be amplified by the future design.
We look forward to more progress from Jon and wish him best of luck with his recovering tree.
Comments:
Most Ficus are tropical and sub-tropical and do best with temperatures of 60-95F. Ability to tolerate freezing varies greatly with the hundreds of species of Ficus. Trees in excellent condition and growing in ideal conditions such as in the ground in the tropics or near tropics can tolerate short bouts of temperatures near freezing with little or no damage except loss of leaves and some fine branches. Trees growing under less ideal conditions such as in the northern and cooler climates, containerized trees, and trees in less than superb condition will often die or lose major chunks of apex, branches etc. Once the damage is done the tree must be allowed to recover by providing it with ideal growing conditions.
.

Jon's Ficus microcarpa prior to freezing.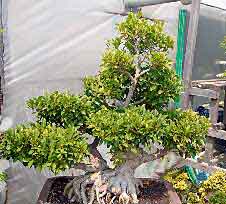 The Ficus showing new sprouts.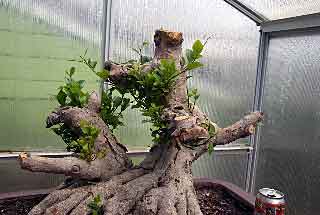 The spectacular basal trunk of this tree.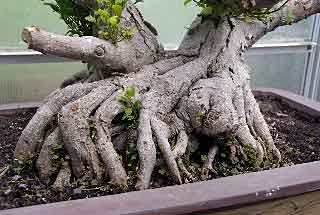 Spectacular growth May 2007.