Randy and Anne Whedon of Ohio have a wonderful bonsai collection which I had the priviledge of viewing on my recent bonsai tour to Ohio.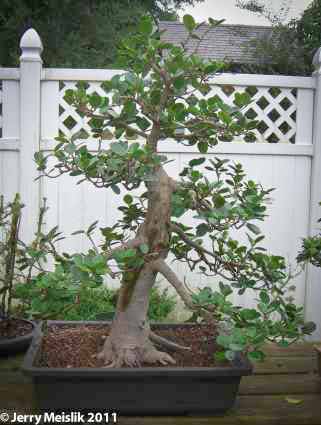 Shot of the Ficus microcarpa Green Island in 2004, Mike Scheid collection

In their collection is a Ficus microcarpa 'Green Island" that is quite large with a large deadwood feature in the trunk. The base of the tree has some roots that seem to interrupt the nice flow of the trunk. These roots are non-radial and create visually distracting elements.
Randy usdc a small saw and concave cutter to remove or shorten the roots that did not flow out from the trunk. The photo below shows roots 1, 2 and 4 that are non radial. Root 3 was a straight root that was elevated off the surface root level that did not seem to follow the nice surface root and basal trunk flow.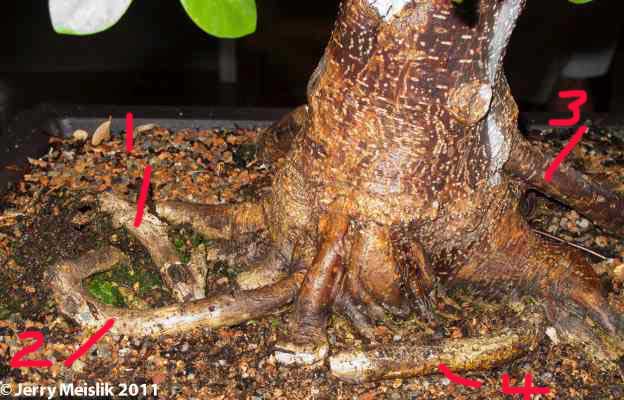 Ficus with visually disturbing roots, 2011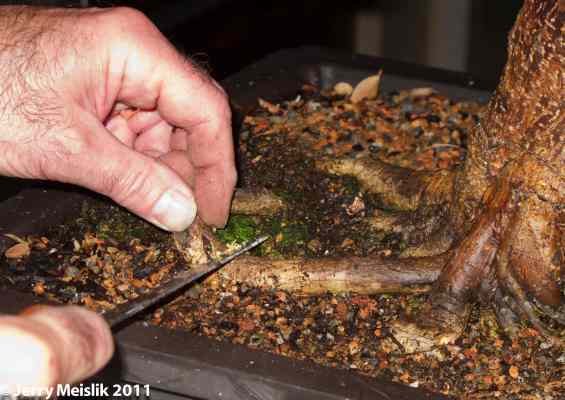 Randy used a diagonal cut to remove the non-radial part of root 2 - leaving the radial portion, 2011