During my July 2013 visit to the Washington DC area at the invitation of the Potomac Bonsai Association I toured a bonsai garden and nursery run by Todd and Bob.
My host, bonsai artist and friend LeAnn Duling works several days each week at the Gardens Unlimited. The property contains an extensive personal bonsai collection as well as a public bonsai nursery. The nursery contains some of the best bonsai material that I have seen. Temperate as well as tropical bonsai are on display and sale. There is also a large sand and rock garden and stroll garden on the property.
On display is a pretty extensive collection of figs of various species. Several of the bonsai will be shown below. Todd and Bob have a great artistic sense as you can see from the photos.
They also design and install rather large and impressive gardens throughout the Washington DC/Potomac area for discerning clients.
If you get the chance you should try and visit their bonsai garden and nursery. If you are in the area and would like to visit the garden call them at 804 448-4499 to arrange for a tour.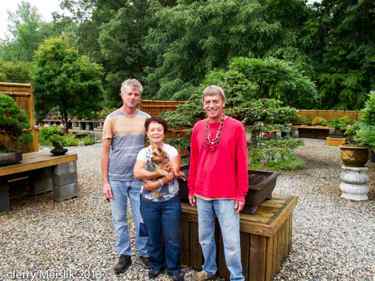 Todd on left, LeAnn and Bob