In May of 2004, I worked with David Fukumoto on the initial design of this Ficus microcarpa from the Mid-Pacific Bonsai Foundation's Hawaii State Bonsai Repository.
The sequence below shows the tree after 5 months of unrestrained growth at the Fuku-Bnsai nursery in Hilo. During this time the tree was allowed to grow wildly. The new foliage allowed the tree to recover from its drastic initial styling and to replace much needed energy reserves.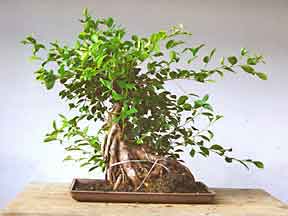 The tree has regrown new foliage, front view.
Back of the fig.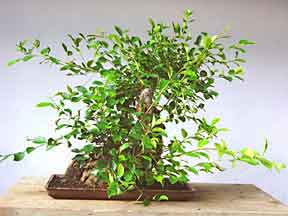 The tree has grown lots of new foliage and recovered its strengh. Branches are pruned back to reveal the basic structure. The tree is repotted to give it strength for its new growth.

Roughly trimmed and repotted, front view.
Ficus from the back view.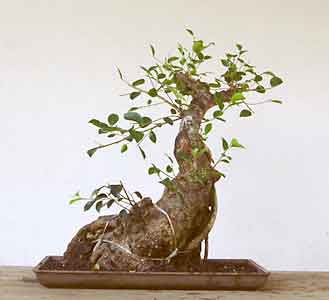 Ficus from the left side view.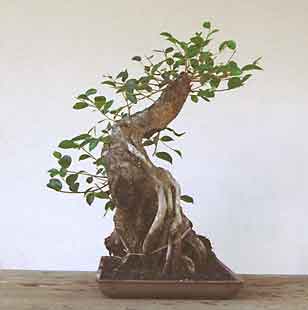 Ficus from the right side view.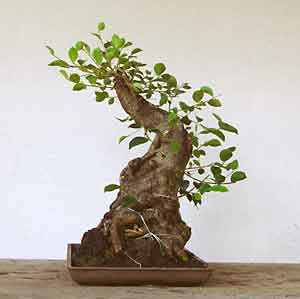 The tree has recovered from its initial drastic shaping and grown new branches, the next step is to select branches to create a new apex and to form the key structural branches. As shown below the plan is to allow the tree to grow a new apex and strengthen the right growing branches. At the same time any branches on the left side will be removed. This process will also involve trimming and wiring any useful branches to their new "correct" positions.
Left heavy branch to be removed.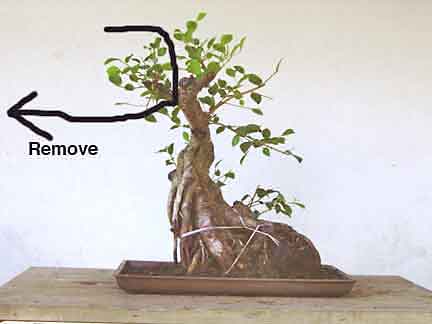 Map for the future regrowth of the tree.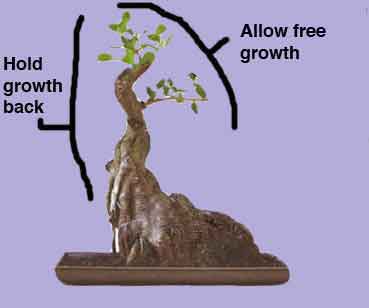 Although there are infinite numbers of potential ways to shape the tree, the last picture is a computer virtual image of one possible design for the tree. To see more possible futures for "MAHALO" click here.
To learn more about the Mid-Pacific Bonsai Repository click here.
To see "TRAINING OF "MAHALO!".
To see "MAHALO - Part 3" click here.
To see David Fukumoto's review of my book "Ficus: The Exotic Bonsai".
To see my "Water Jasmine" article on Fuku-Bonsai's site click here.
To see my article on "Growing Bonsai My Way".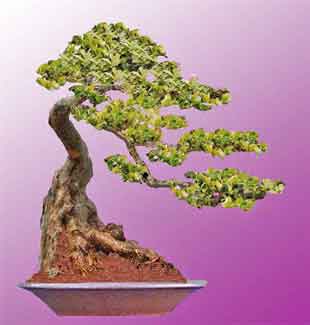 MAHALO, in the future.
We look forward to helping direct the future of "MAHALO" and continued thanks to David, Mike and the great staff of Fuku-Bonsai for making this possible.