Master Chiu-Chang Chiang VisitsMontana
By
Jerry Meislik
---
Introduction
Famous bonsai Master Chiu-Chang Chiang from Taiwan visited the Big Mountain in Whitefish, Montana in mid October 2002. He instructed members of the Big Sky Bonsai Society, the Inland Empire Bonsai Society and their friends. His instuctions were ably translated by his son-in-law Dr. Fu-Chou Cheng. The sessions were well attended and included a slide program on grafting and manipulation of ficus trees, a lecture demonstration on a large Tigerbark ficus, and a workshop on members trees.
Slide and Video Program
Videos and slides of Master Chiang revealed in detail the process of free grafting pieces of fig into areas of the tree where branches were needed. In-arch (approach) grafts were also demonstrated. In-arch is a technique in which a superfluous branch is bent around and inserted into a groove in the trunk of the tree.
In-arch graft to insert new branch.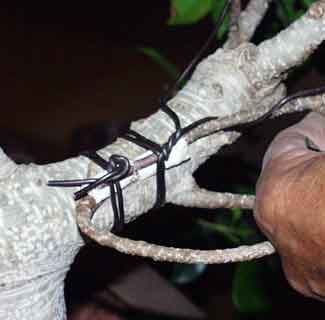 In this way the tree will have a new branch placed in exactly the correct position. A large inlay graft was also demonstrated; a 2 inch diameter branch with attached aerial root was inserted into the trunk thus adding a full sized branch where one was needed. The aerial root was fed into the ground or a pot to feed the new graft until it is firmly attached. In this way a fully sized branch can be grafted to a tree rather than a small whip. This speeds the bonsai along much faster to its finished state.
Inlay graft is shown to the left of the red line.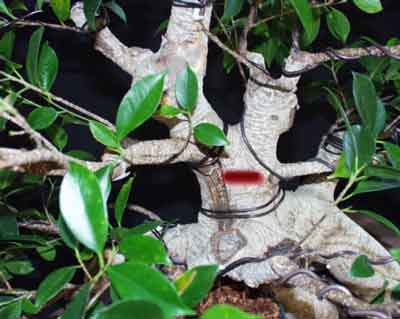 Advanced techniques of root manipulations were also shown in which roots were moved, grafted, split and manipulated in many ways. Great attention was placed by Master Chiang on the proper arrangement of roots to create an attractive flare on the trunk base. He feels strongly that a faulty root system detracts greatly from the quality of the tree.
The aerial root, to the left of the thumb, has been grafted into place.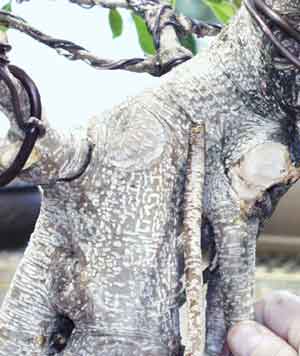 Attendees were encouraged to participate by looking, feeling, and inserting grafts into proper position under the guidance of Master Chiang.

Demonstration on Tigerbark Fig
Mater Chiang started by analyzing the Tigerbark's, Ficus microcarpa cv 'Tigerbark', good and bad points and then labeling all branches to be retained with tape. Unneeded branches were quickly removed. Each large cut or saw mark was then carefully smoothed off with a very sharp knife. This smooth wound is a great help to allowing the new bark to heal over the injury. Cut paste is then applied to each significant wound.
Master Chiang sharpening tools each day prior to work.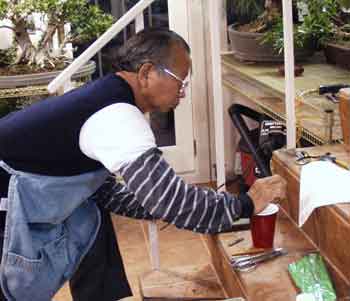 On the left Ficus microcarpa and restyled on the right.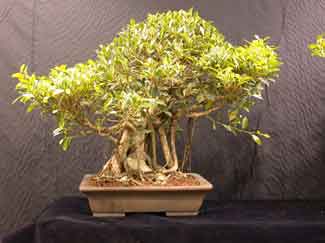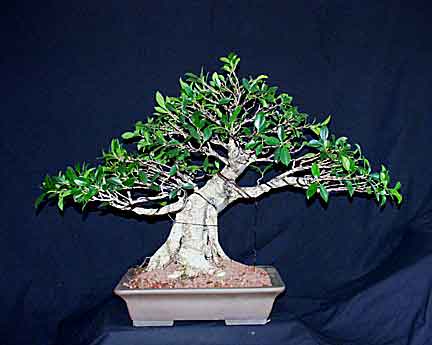 Then a careful analysis was made and if branches were needed locations for grafts were marked with tape. Free grafts were inserted into areas where no approach (in-arch) graft was available. Approach grafts were used where long branches were available. Approach grafts are preferred since they are stronger and grow faster. The tree was then wired in minute detail to finish off the design process. Future development of the tree was discussed.
Left Ficus benjamina before and on the right after styling by Master Chiang .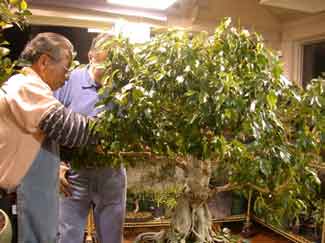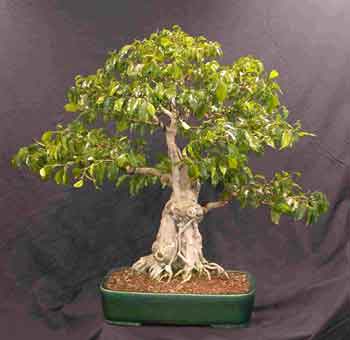 Workshop
In the workshop Master Chiang refined a Ficus benjamina with Wayne Whitney, Fukien tea with Rob Johnson, Ficus benjamina with Bob Burmood, Ficus retusa with Jill Hurd, Ben Devall's Ficus Kiki, Fikus kiki with Kay Smith, and Roger Snipes' Pinus nigra. All the trees were significantly improved in consultation with Master Chiang. One factor that Master Chiang stressed was that wiring needs to be thorough and detailed, with every twig being wired into its proper position. Advice was given each owner as to the future of the tree and the steps needed in its further development. Happy participants posed with their newly changed creations.
Rob Johnson, Master Chiang and Fukien tea on the left and Bob Burmood giving Master Chiang a Montana bear hug on the right.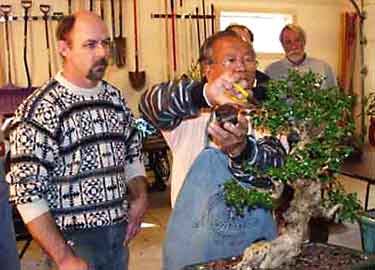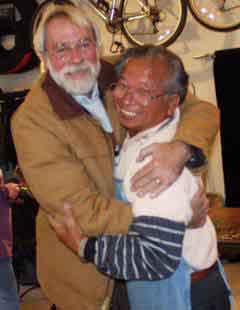 Ben Devall and Master Chiang make decisions on a bonsai.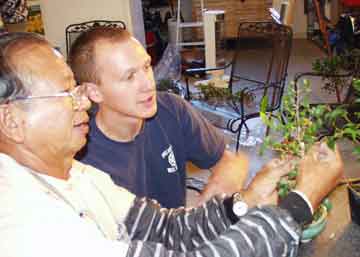 Kay Smith, Master Chiang and her newly designed bonsai.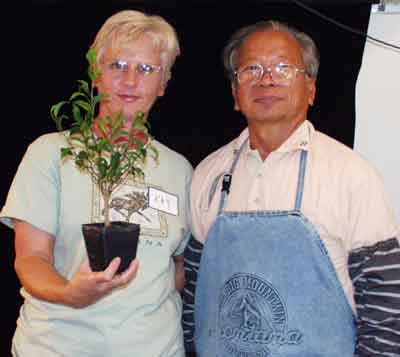 Jill Hurd and her re-designed Chinese Banyan.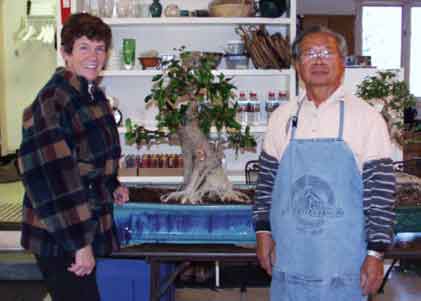 Master Chiang poses with Roger Snipes on the left and Wayne Whitney on the right and their bonsai creations.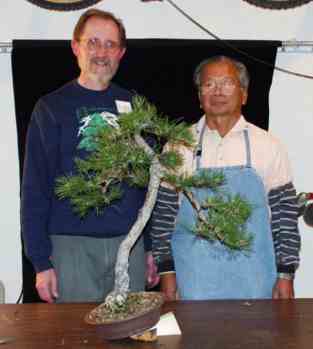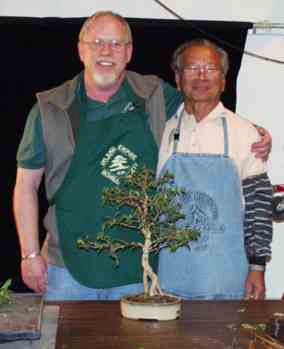 A very happy group with Master Chiang
after his demonstration .