A panoramic view of one of Montri's bonsai gardens
One of my best bonsai friends is Montri Suksermsongchai of Bangkok, Thailand. I met Montri several years ago in Taiwan and have gotten to know him and his family quite well. Montri is a soft-spoken, elegant Thai with a huge knowledge and love of bonsai. He has spent many years learning about bonsai and has gathered a world class collection. These include many trees developed from native Thai materials as well as some obtained from other countries. He has held many bonsai positions, most recently President of the Thai Bonsai Associaton. We visited him during the recent 2009 APBFF convention in Bangkok.
His knowledge of tropical bonsai is impressive and I have been fortunate to spend days with him discussing bonsai and learning much about the culture of tropical trees and his bonsai vision. His bonsai collection shows great care and skill as well as the knowledge of how to handle a diverse group of species under cultivation in the tropics.
My association with Montri has allowed me to learn about Ficus species such as Ficus virens that are splendid bonsai but not very well known or used for bonsai outside of Thailand.
Below are some pictures of his bonsai and of his bonsai gardens. Montri tells me that he is not done collecting bonsai yet and has a large bonsai project or two to do in the future.
I can't wait to see his next projects come to fruition.
Very red leafed Ficus virens, photo by Montri
Ficus virens, root-over-rock style

Ficus benjamina, root-over-rock style

Wrightia religiosa, root-over-rock style

Ficus virens, root-over-rock style

Ficus virens, root-over-rock style

Ficus microcarpa

Vitex in root-over-rock style

Hibiscus tiliaceus

Tamarind in APBFF show, 2009

Densely branched Ficus virens, root-over-rock style

Garden sized Tamarind that is even wired!

Chase Rosade admiring a defoliated Ficus microcarpa

A very large Ficus religiosa

Montri and JM discussing bonsai

Montri and wife Jane, JM and Rhona

Ficus religiosa bonsai getting a trim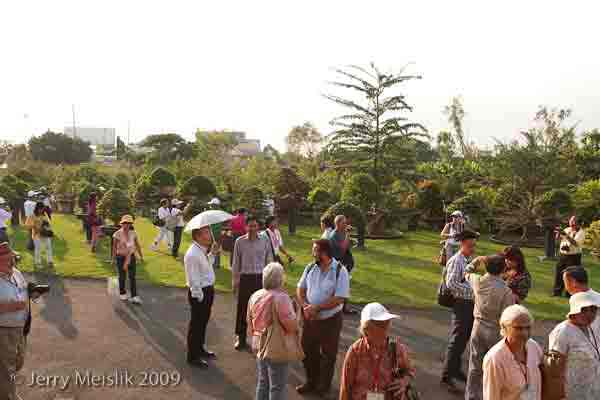 Recent attendees of the 2009 APBFF exploring Montri's garden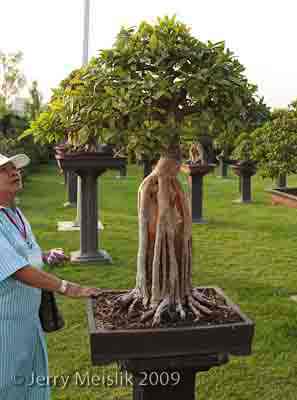 Fely Gupit, of the Philippines, checking a tall root-over-rock Ficus virens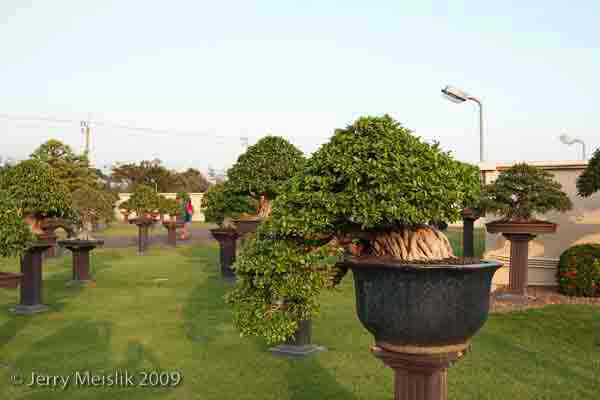 Ficus microcarpa in cascade style