Huge Ficus in "Rainforest Style", Hilo, Hawaii.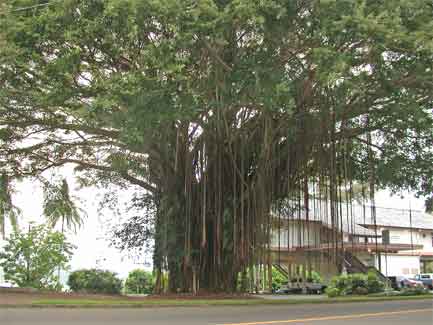 On a May 2004 visit to Fuku-Bonsai in Hilo, Hawaii, David Fukumoto presented me with a gift of a bonsai. The bonsai is a Ficus seedling, Ficus microcarpa, that is a cross between Ficus microcarpa 'Round Leaf' from Taiwan and a selected clone of Haruo "Papa" Kaneshiro. The bonsai is now about 30 years of age.

One side of Ficus, 40" by 20", in growing tub.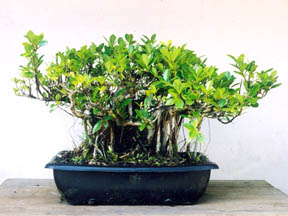 The tree has thick rubbery, ovalish leaves and forms aerial roots with ease in the high humidity of Hilo. Initially, the plant in its plastic growing container weighed over 103 pounds in its plastic growing tub.

Other side of Ficus .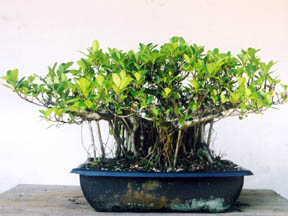 In oder to ship the tree to me David and Mike Imano stripped away all the soil, trimmed back the roots and pared back all the branches. The tree was planted on a rubber membrane and most of the roots grew from the edges of the tree rather than at its center. Outward growing roots were removed and only the vertical roots were retained.
Rubber membrane under the base of tree to encourage roots to spread outwards.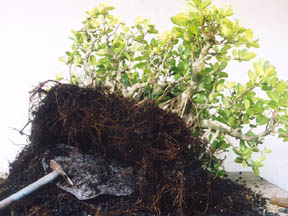 This photo shows the retained vertical aerial root system.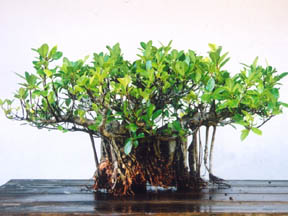 The other side of the tree.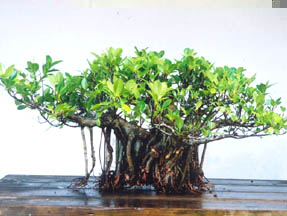 All branches were shortened back to usable growing tips and any duplicate branches were removed.

Top growth severely pruned back, perspective one.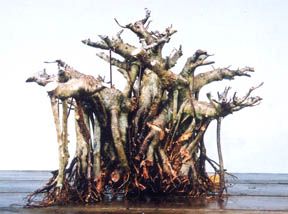 Perspective two, showing compressed height of this design.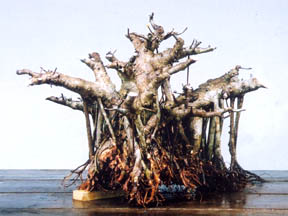 Perspective three, 27"long and 16" from base of root to apex.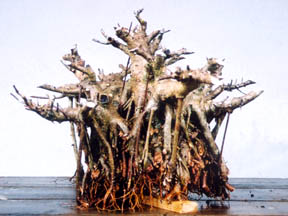 David holding the bare-rooted tree which now weighs a mere 22 pounds!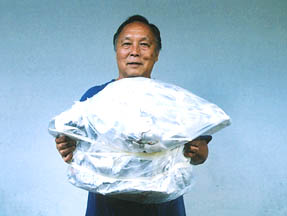 The tree was boxed and air-shipped to me in Montana. Click here to see the ongoing saga of the "Rainforest Ficus".
To see David Fukumoto's original article on this tree's history click here.

Detail of curtains of aerial roots on another Rainforest Ficus, Hilo.