One of the most interesting styles of bonsai is the root-over-rock design. Simply a tree is designed to grow over a rock. There are many variations to this form but Ficus do very well in this configuration as their roots are aggressive and will cling to a stone if given a chance.
One caution is to use a normal form of a fig and not a dwarf form. The dwarf forms grow more slowly and it will take longer for them to anchor on the stone and to form good branching that will be needed to bring the design to life.
This is a Ficus microcarpa 'Taiwan Medium Leaf'. It is one of the smaller microcarpa forms and is much slower growing. Initial work attached the tree to the stone and I buried the stone quite deeply. Growth was allowed with little trimming for several years to get the tree to stabilize and adhere to the rock. In later stages the branches and sub-branches will need to be defined to bring out the best in the bonsai.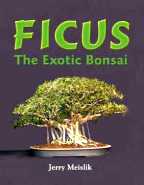 The definitive reference work on Ficus
for bonsai. The book is a softcover, 8 by 10 inch volume, with 144 color pages, containing detailed information for the beginner as well as the advanced hobbyist.