This is a Ficus rumphii, an unusual and rare bonsai subject in the west. This specimen is about 8 years old and seed grown.
Leaves are large but reduce with defoliation. There is some random branch die back suggesting that this may not make the best bonsai subject.
The bark is a rather stark whitish brown.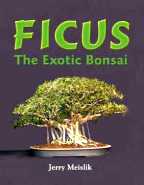 The definitive reference work on Ficus
for bonsai. The book is a softcover, 8 by 10 inch volume, with 144 color pages, containing detailed information for the beginner as well as the advanced hobbyist.
Click here for more information