Some species of Ficus will grow from pieces of root. This is fortunate as repotting of figs is required every few years to maintain the health of the tree. At this time thick and unnecessary roots can be removed and rooted to form new plants.
A root cutting is shown from a Willow Leaf fig. The bonsai is now about 10 years old.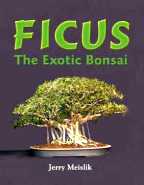 The definitive reference work on Ficus
for bonsai. The book is a softcover, 8 by 10 inch volume, with 144 color pages, containing detailed information for the beginner as well as the advanced hobbyist.
Click here for more information