Starting with this rather young rooted cutting of Ficus 'Mystery' I hope to one day develop a bunjin or literati style bonsai. The rooted cutting is now about two years old.
Which of the designs seems to be the best to your eye?
To learn more about bunjin/literati styles see http://www.bonsaihunk.us/info/Bunjin_literati_Style.html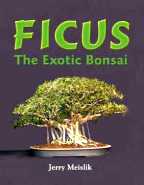 The definitive reference work on Ficus
for bonsai. The book is a softcover, 8 by 10 inch volume, with 144 color pages, containing detailed information for the beginner as well as the advanced hobbyist.
Click here for more information