There are many ways to acquire a bonsai tree. One way is to take a cutting from a suitable material and to propagate it. In this case the mother tree is a Ficus rubiginosa grown form a seed from Australia.
The mother tree has great bonsai characteristics so a piece of the mother tree was removed and rooted into the large white growing pot. It was allowed to grow wildly for some years and when the trunk caliper seemed about right it was chopped down and tilted to the side.
It re-sprouted new leaves and branches low down making it suitable for a small bonsai. This re-spouted bonsai was then kept in relatively small pots while the details of the branches and apex were sorted out.
Progress could have been much much faster if I had left the small tree in a much larger pot but space in my indoor growing area is very limited.
You can see the result some 5 years later in the last photo. Please remember that this tree is not completed. One, foliage is large and has not been reduced during the training process. More ramification will be produced now that the basic structure has been formed.  Another year or two and the tree will be near completed.
Lesson, developing your cutting into a bonsai in a larger container will help speed of the process, although better control of shaping may be achieved in the smaller container.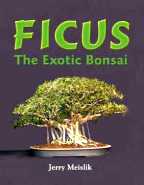 The definitive reference work on Ficus
for bonsai. The book is a softcover, 8 by 10 inch volume, with 144 color pages, containing detailed information for the beginner as well as the advanced hobbyist.
Click here for more information