Some 20 + years ago a dear friend gave me a rooted cutting of an unusual plant. It is supposedly a cross generic hybrid of Pyracantha and Osteomeles. The plant has survived growing indoors for all these years and makes an attractive cascade or semi-cascade as it seems to like growing a bit downwards.
The wood once set is quite hard and cannot be bent safely. All bends done with wire must be done in the green stage of the branches. Cut and grow is also an easy way to shape it.
It has never bloomed for me and it is fascinating that it would tolerate my warm and humid growing conditions and has never been subject to a cool rest period.
If you can find one it may be a fun plant to play with for your indoor bonsai collection.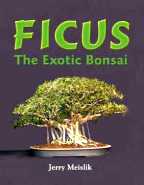 The definitive reference work on Ficus
for bonsai. The book is a softcover, 8 by 10 inch volume, with 144 color pages, containing detailed information for the beginner as well as the advanced hobbyist.
Click here for more information