Exposed root styles are one of may favorites.
This fig, Ficus that I call 'Mexicana' but whose real species name is unknown, is a root cutting of a mother tree. The original material was found in Mexico.
The exposed roots are interesting to my eye. The canopy is not yet clearly designed. At some future date I may have a better shape for this bonsai.
For now I enjoy it as an "unusual style".
What do you think?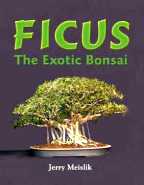 The definitive reference work on Ficus
for bonsai. The book is a softcover, 8 by 10 inch volume, with 144 color pages, containing detailed information for the beginner as well as the advanced hobbyist.
Click here for more information