Ficus 'Mystery" is so called because its exact scientific name is unclear. No matter what this fig is called it is one of the best figs for bonsai that I have cared for.
You can see how these two figs were created from a tree given to me by David Fukumoto of www.fukubonsai.com by clicking here http://www.bonsaihunk.us/info/BreakingUpIsEasyToDo.html
One of David's figs of this species is in the National Bonsai and Penjing Museum in Washington, DC. It is a beauty.
Let me know how you like mine.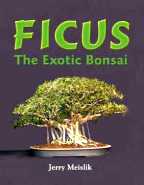 The definitive reference work on Ficus
for bonsai. The book is a softcover, 8 by 10 inch volume, with 144 color pages, containing detailed information for the beginner as well as the advanced hobbyist.
Click here for more information