This is a young plant grown from a root cutting of a Ficus natalensis. The root cutting sprouted three branches.
To develop a new apex and create a better transition to the new apex, two of the sprouts were pulled together with electrical ties. A month or two passed and the ties were removed. The lower part of the fusion appears to be nicely grown together but the upper portion is not fused. So several new electrical ties were placed in areas adjacent to the old ties.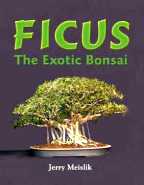 The definitive reference work on Ficus
for bonsai. The book is a softcover, 8 by 10 inch volume, with 144 color pages, containing detailed information for the beginner as well as the advanced hobbyist.